Waste Heat to Power (WHP) Generation
From small to big companies,
most of the heat generated is not used and considered a waste.
By harnessing this "waste heat" using a WHP generator it is possible to produce electricity, allowing businesses to both save energy and help protect the environment.
Reducing electricity consumption
Waste heat can be turned into electric power.
Protecting the environment
By reducing our electric consumption we also reduce the amount of fossil fuel needed to produce electricity thus lowering our carbon footprint.
Corporate Social Responsibility (CSR) and Sustainable Development Goals (SDGs)
CSR and SDGs are gaining ever more recognition nowadays as we realize the importance of the environmental issues ahead of us. In this context a Waste Heat to Power generator can be a great asset to help a company attain its CSR goals.
We select the WHP system based on several parameters such as: The temperature
The amount of heat produced
The type of Waste Heat
| | | |
| --- | --- | --- |
| Electric power facilities | Heat source | Typical applications |
| Organic Rankine Cycle technology (ORC) | Medium or low temperature | Metal heat treatment, ceramic manufacture, glass production, incineration systems, cogeneration systems etc. |
| Stirling engine | High temperature | Garbage incineration plant, woody biomass boiler, industrial scale incineration systems, Industrial furnaces(for ceramic, firing, melting, combustion etc.) |
| Small steam-electric generator | Steam | Food industry, petrochemical industry, electronic component manufacturing etc. |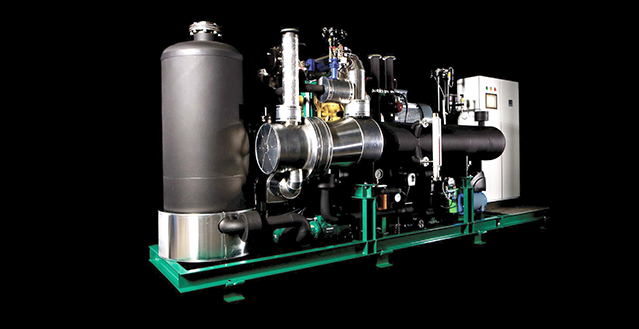 ● ORC (Organic Rankine Cycle)
This system is a steam engine using organic matter instead of water, waste heat can be turned into electricity at medium or low temperature; 90-250 degrees.
ORC engine can also function using geothermal and exhaust gas heat.
● Stirling engine
Gas expand and contract depending on its temperature, by repeatedly warming and cooling a gas in an airtight chamber we can harness this movement to drive pistons and generate power.
● Small steam-electric generator
Electric generator using waste steam Small steam-electric generator can use steam coming from:
Other machines
The flash steam from recovery system
Steam Screw Expanders (SSE) The SSE is a generator adapted to small scale plants and specifically made to answer the common problems faced concerning small scale steam based power generation:
Change in flow
A small steam volume
Low-pressure
With a SSE it is possible to generate energy efficiently in small plants and at low cost.
Installation Support
We support you from the feasibility study to the installation and operation of your generator.
WHP project development planning
*Depending on each case we provide tailor made solutions to ensure your utmost satisfaction.
Feasibility study
The most important points for WHP are:
the quantity of gas
the way of recovering heat
Inquiry phase
Research

Used fuels
The principal characteristics of the gas (temperature, pressure, amount of gas flowed, composition)
And the provenance of waste heat and how it is captured
The amount of available cooling water

The current state of the project
Installation place
Plumbing
Confirm blueprints
Measure the gas quality(as necessary(extra charge))

Installation support
For each specific case we carefully select the best products and most appropriate type of fuel to suit our client needs. We can also advise our clients about the characteristics and the cost of:
The equipment
The installation
The fuel
The maintenance
The management
Advice for system
Estimation, fund adjustment

Power calculations
Manufacturer selections
System architectures operating

Initial cost estimation
Running cost estimation
Help acquiring public funding or public subsidies
Profitability analysis (return on investment)

Support
Construction planning
Installation adjustments
Test Operation
Please contact us for more information about WHP.