The portable water purifier (Rescue Aqua 911)
A source of safe and drinkable water at your disposal, anytime, anywhere. With this professional grade survival gear, protect yourself in any kind of emergency situation, earthquakes, floods, terrorism…
From any source of water, including the sea, rivers and many others you can easily make some safe and drinkable water.
Safety recognized worldwide.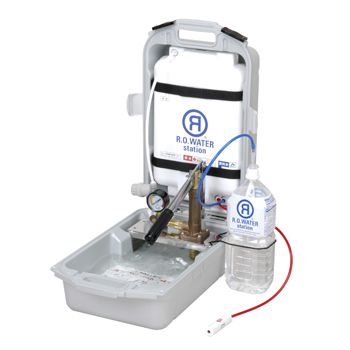 The World first water purifier using nanotechnology (water purification system using a reverse osmosis membrane).
Remove harmful organisms such as the Escherichia coli bacteria, viruses and chemical substances.
Make any surrounding sources of water safe and drinkable without the use of any chemical.
Even during the worst disasters, thanks to its shock-resistant case, the Rescue Aqua 911 can be used reliably.
Easy to assemble, lightweight and compact for an outstanding mobility.
No need for gasoline or electricity !
Even in the worst case scenario Rescue Aqua 911 will provide you with a stable supply of safe and drinkable water.
Produce 2 L of drinkable water in 5 minutes, for a total production capacity of 600 L a day (enough for 300 persons).
The Elevator stool
To help in case of involuntary confinement in an elevator due to earthquakes, power outages or breakdowns.Contains water and handlight. Can also be used as a toilet in case of emergency. Can be used as a normal chair providing some comfort even in case of emergency.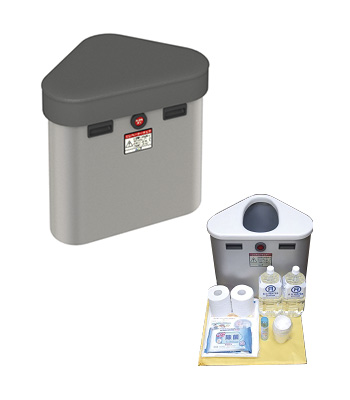 As a small stool it can be easily set anywhere and is very user friendly.
Prevent panic attacks related to lack of light, water or toilets.
Of course, privacy is also insured thanks to a blindfold sheet and a deodorant.
Equipped with a security function to prevent unwanted tampering.
Ideal for improving the image of a public facility, building, condominium.
Is equipped with display stickers, easy to understand even in emergency situations.
AeroShield
The AeroShield illuminates the upper part of the room with UV-C, one of the most efficient ultraviolet rays to purify the air.
The AeroShield takes advantage of the natural circulation of air by convection, that way not only the upper part but the air in the whole room is cleansed.
This air purification method using UV irradiation is also recommended by the CDC (Centers for Disease Control and Prevention) notably in the "Guidelines for Preventing the Transmission of Tuberculosis Bacteria in Medical Institutions".
As it is unseen to the eyes the purity of the air can often become a concern to people, with the AeroShield the air is clean and peace of mind is assured.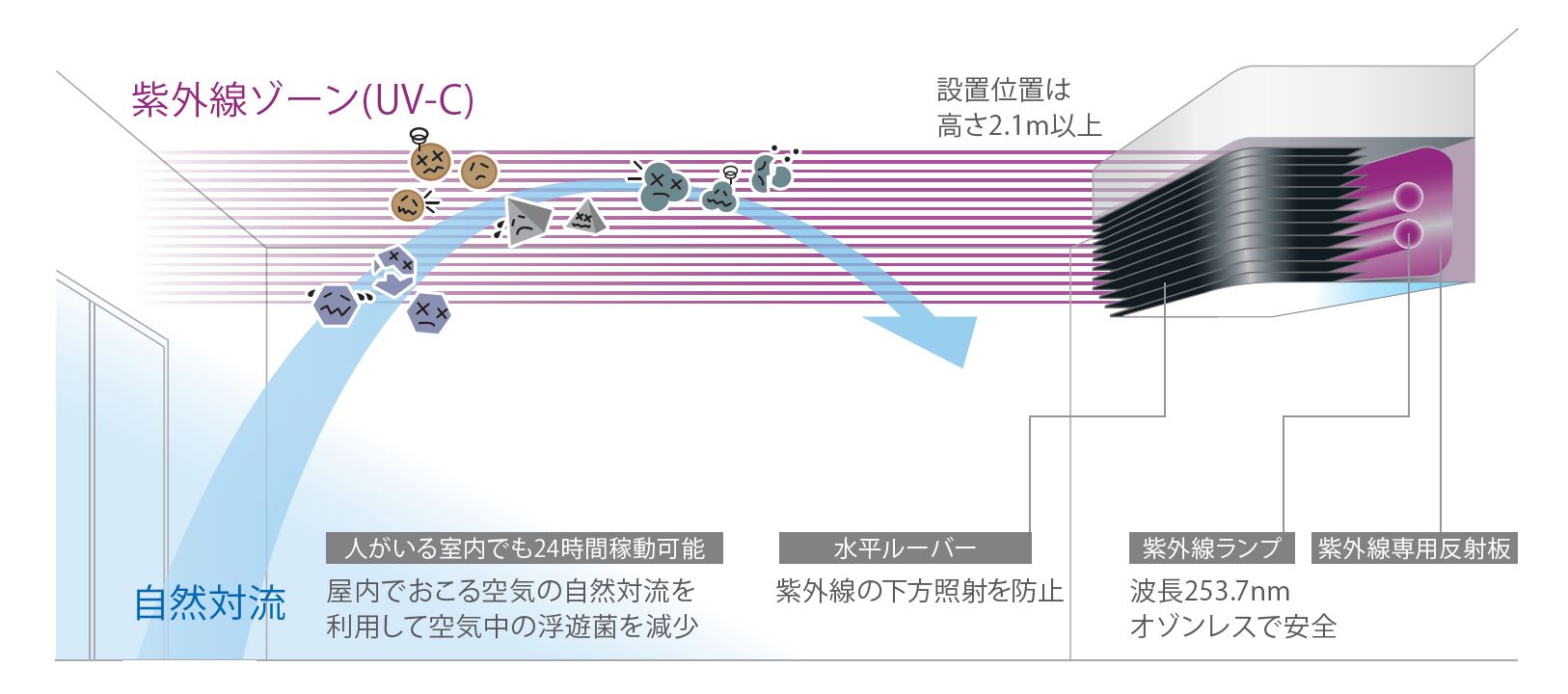 Sofi
The Sofi is a soil microbial membrane combined treatment septic tank.
The Sofi system of soil utilizing septic tank has been certified by the Minister of Land, Infrastructure, Transport and Tourism.
It has excellent features unique to septic tanks that use "soil" based systems.
The Sofi has many features including resistance to load fluctuations, reusable treated water, low power consumption and reduced maintenance costs.
This design is especially adapted for properties that require special design conditions and reliability such as toilets in natural parks, seasonal tourist spots, disaster prevention facilities.Click here for details:
www.alcoinc.co.jp